Perfect Winter Road Trips for When You Need to Escape Phoenix
From mining towns to stunning vistas, there are plenty of good reasons to take a quick break from Phoenix.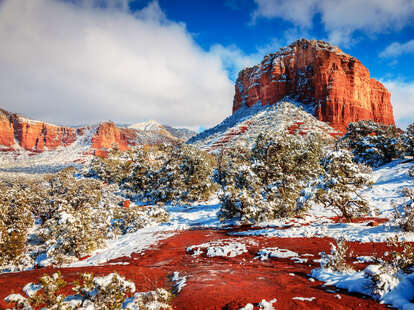 While tourists are beginning to flock to Phoenix for its 70-degree winter temperatures and high-profile events, us locals are itching to get away from the crowds and the enduring warm weather. Fortunately, a change of pace is just a short drive away—from snow capped mountains perfect for skiing and snowboarding to quiet, historic mining towns for a serene getaway. To get started, check out our roundup of must-visit winter road trip destinations just hours away from Phoenix.
Greer
Drive time from downtown Phoenix: 4 hours, 5 minutes
Beautiful, snowy Greer is home to Sunrise Ski Resort—one of Arizona's only two ski resorts. And while Snowbowl has the most amount of space for newbies, Sunrise is the state's largest resort. Want to switch up your typical day of skiing or snowboarding? Opt for their night skiing! And while the ski resort is definitely the highlight of Greer, there's also plenty of great restaurants and things to do in the neighboring cities of Show Low and Pinetop if you need a break from the slopes.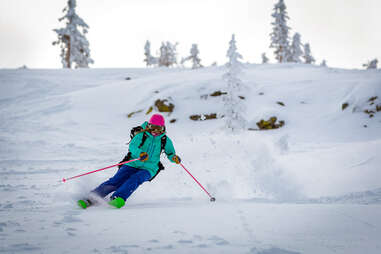 Flagstaff
Drive time from downtown Phoenix: 1 hour, 20 minutes
Flagstaff is a must-see Arizona destination. Not only does Northern Arizona University give the city a vibrant, college town vibe, it offers some of the best skiing and snowboarding in the state at Snowbowl. Not an expert on the mountain yet? Don't worry—the resort offers the largest area of beginner terrain of anywhere in the Southwest.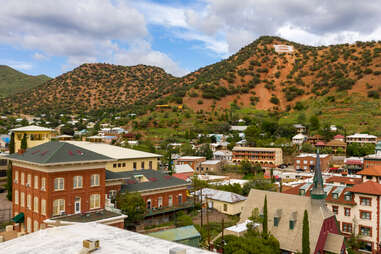 Bisbee
Drive time from downtown Phoenix: 3 hours, 15 minutes
Bisbee is an often-overlooked Arizona destination, but the historic mining town offers a look back in time at Southern Arizona through its various museums alongside art galleries and colorful, quirky buildings. The best part? You might not think to go south for sweater weather, but due to Bisbee's high elevation, it averages 10 to 20 degrees cooler than Phoenix.
Sedona
Drive time from downtown Phoenix: 2 hours
Sedona has been having a moment, and for good reason. This quaint mountain town is the go-to spot for red rock views, a great psychic reading or a hike to a vortex. Plus, it's increasingly becoming an epicenter for acclaimed restaurants like Lisa Dahl's Mariposa Latin Inspired Grill or L'Auberge de Sedona's Cress. The town also has a surprising number of boutiques to shop, especially at the beloved Tlaquepaque Arts and Crafts Village.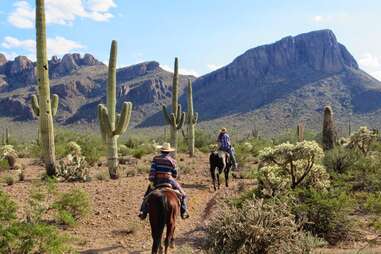 Tucson
Drive time from downtown Phoenix: 1 hour, 45 minutes
As Arizona's second biggest city, this metropolis of Southern Arizona is a hub for arts, culture and great food. In fact, it's got the highest concentration of local restaurants in the country. It also boasts Phoenix's same mild winter weather so it most likely won't be too cold to hike favorites like Sabino Canyon and Mount Lemmon.
Prescott
Drive time from downtown Phoenix: 1 hour, 45 minutes
Arizona's original capitol might be a couple hours out of the city, but it's well worth the drive—especially if you can visit early enough in the season to catch a glimpse of why it calls itself Arizona's Christmas City—the jaw-dropping lights surrounding the courthouse plaza. While you're there, we'd recommend stopping in for a drink at the famed Whiskey Row or checking out the wildlife at Watson Lake Park. If you're lucky, you might even see some snow while you're there.
Jerome
Drive time from downtown Phoenix: 2 hours
Arizona has many mining towns at various stages of abandonment, but none are quite as thrilling as Jerome—the state's best-known ghost town. It's even called the "wickedest town in the west." Since the mines were abandoned, the city's been revitalized with ghost tours, wine tasting rooms, and museums to keep you busy all weekend long.
Grand Canyon
Drive time from downtown Phoenix: 3 hours, 30 minutes
No list of Arizona day trips is complete without a trip to the state's best-known attraction, the Grand Canyon. Winter is a relatively slow season for the canyon, so it's a great time to visit if you want to avoid the tourists. Plus, sometimes you can even see a bit of snow. While hiking might not be ideal in the cooler months, there's plenty of other options—like walking above the canyon on the Skywalk Glass Bridge or splurging for a helicopter tour.
Jamie Killin is a Phoenix native and Arizona State graduate who specializes in lifestyle and features writing. You can usually find her at the spin studio, a concert, or trying new restaurants across the Valley. Follow her at @jamiefayekillin.